Published Non-Fiction Novels
The Golden Age of Show Jumping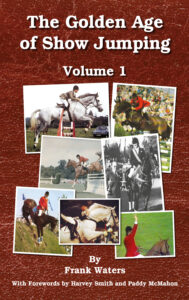 Overview Announcer, Television Broadcaster, and Author, Frank Waters, writes about "The Golden Age Of Show Jumping" when riders and their horses were as famous as movie stars. The excitement of a young boy becoming part of the sport and eventually growing up to become a rider himself. With fate playing a part in him traveling the world as an international equestrian announcer. 
Keekping The Athlete Healthy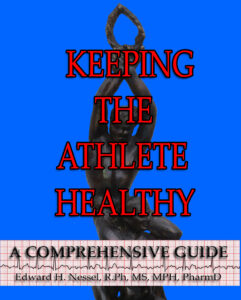 Keeping the Athlete Healthy brings to both the novice and seasoned competitor a step by step guide to preparation, training, and maintenance of the athlete. Coach Nessel's unique combination of scientific training in pharmacology, physiology, and biochemistry coupled with his vast experience in preparing world-class athletes for competition has resulted in a book that is both comprehensive in scope and yet focused on the real-world issues of training. The book guides the reader through a systems biology approach to the complex stress of exercise, the resulting adaptation, and the prevention of injury. This systems-based approach integrates sound scientific principles with clear recommendations based upon Coach Nessel's experience as a teacher and coach. As with his previous excellent books, Keeping the Athlete Healthy is concise, well organized, well written, and grounded in an evidence-based approach to exercise. 
Keekping The Athlete Healthy, Volume II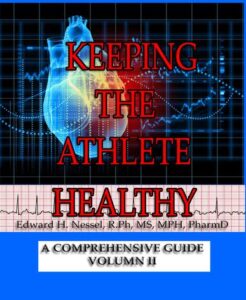 Most of my study, research, and fieldwork the past several decades has revolved around how the body reacts and adapts to vigorous exercise, training, and intense competition. It would be wise for the quality coach, athlete, and parents of same to heed the fact that with almost certainty, every participant submersed in serious training for competitive sports success will endure some form of physical and/or emotional challenge and difficulty. I have never coached, or even known an athlete to achieve his, or her lofty goals without enduring some downtime during their career. The list of sports medicine's potential for physical injuries, illnesses, or emotional barriers to overcome for success is a long one. This second volume of KEEPING THE ATHLETE HEALTHY, as in the first, shines a light on the problems the human body can expect to face if intense training is not handled in an appropriate way that best benefits the participant. As I have said so many times to my athletes, their parents, and to anyone who has asked my advice, "what good is a sick or injured athlete… NO GOOD." Most are like thoroughbred horses: terrible patients, totally impatient to get back to training and face what sidelined them in the first place. That's why they shoot horses. Their intellect relative to the healing process and all that involves, is virtually non-existent. But if we can have educated personnel coaching, participating, guiding and caring for the willing and dedicated athlete to success while all actively participate in a holistic team effort to anticipate, prevent, or help cure as much as possible the causes of injury and/or illness relative to sports, then my job of sharing this vital knowledge will have been well done 
Graves' Desease, In Our Own Words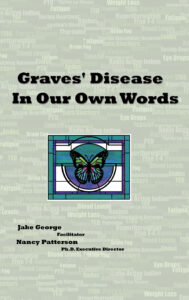 "Graves' Disease, In Our Own Words" takes the reader on a unique journey through the disease's many complexities. Personal accounts offer insights into both the physical and emotional sides of Graves'. Both the experts and other Graves' patients try to validate these feelings with articles on diagnosis, treatment, and healthful living with Graves' disease (hyperactive thyroid). Over eighteen top Endocrinologists, pharmacists and other experts on Graves' disease, make the information in this book, accurate and up to date with the latest information on Graves' disease and its treatments. Over seven years of research on common questions asked, and answers provided by the National Graves' Disease Foundation's board of medical advisors, trained facilitators, as well as answers from the top Endocrinologists, at the major medical and teaching hospitals, ensures what is provided is medically accurate, and is often done in a layperson's terms so it is understandable by those with no or little medical understanding. The authors contacted the medical professionals for a full edit when they wrote the chapters to ensure that the information was correct and current and what was on the cutting edge for treatment of Graves' disease. A full bibliography and recommended reading list is provided to help newly diagnosed find accurate information on Graves' disease. Unfortunately recent studies show that a full 80% of medical related web sites provide wrong or inaccurate information. "Graves' Disease In Our Own Words", takes the worry out of finding reputable, and medically reliable information. At the last American Thyroid Association meeting, they provided a lecture on information and misinformation on thyroid disease. The lecture was titled "The Good The Bad And The Ugly" The National Graves' Disease Foundation was listed as one of the best sources of information for Graves' disease. The National Graves' Disease Foundation, and their medical board of advisors fully endorse this book. 
When Jake and Jan's smooth Collie, Moriah crossed over she left a huge void in their lives. Jake did a great deal of research on the history of pets and those who took care of them. The bond goes back 45 thousand years. Moriah was known as My Sweet Baboo to Jake. This book covers the history of pets, pet loss support resources and inspirational stories from other author friends.